Sarah Paulson Was Shocked To Find This Buried In The Yard Of Her New House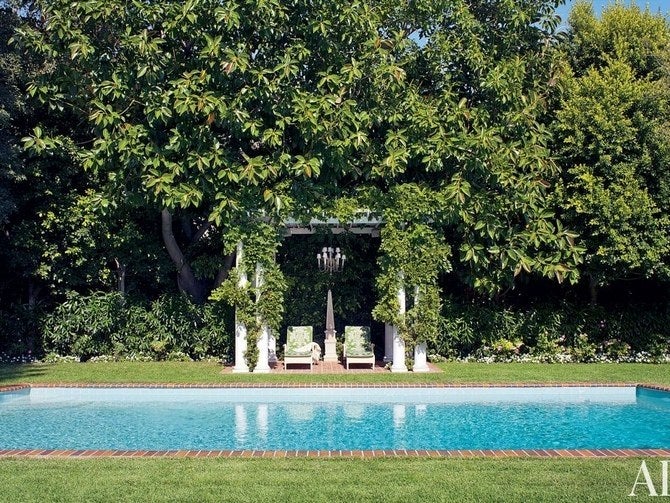 Sarah Paulson has been candid that success ― at least on a commercial scale ― came later to her in life. The 42-year-old, who began working as an actress as a teenager, has said she doesn't believe her acting career took off till just four years ago, when she appeared as racist Mistress Epps in 12 Years a Slave. Seemingly keeping with tradition of taking her time with things, it wasn't until last fall that Paulson became a first-time homeowner, thanks in part to her American Horror Story castmate, Emma Roberts. During the Tribeca Film Festival, Paulson chatted with AD about her new home at the McIntosh Townhouse, where she was celebrating the 2nd Moet Moment Film Festival, an annual competition that encourages a new generation of artists dedicated to telling stories through film. Although the 2,100-square-foot single-story home in Hollywood Hills West had been renovated shortly before Paulson purchased it off-market from Roberts, she decided to make some personal adjustments to it herself, and thus has yet to move into the three-bedroom, 3.5-bathroom house, which was originally built in 1949. If the end result is anything near as stylish as the American Crime Story actress's red carpet appearances, we can't wait to see the final result.
AD: A little birdie told us you just bought a house.
Sarah Paulson: I did just buy a house! It's in Los Angeles.
AD: And Emma Roberts used to own it, right? Were you just hanging out there one time and asked her if you could buy it, or how did it happen?
SP: I had never been to her house actually, but I was really starting for the first time…I'm a New Yorker at heart, so the idea of living in a box over a subway stop never really bothered me, and it's all I ever really thought I wanted and I was totally content with, but it turned out when you live in Los Angeles for a long enough time, you start to realize: "Wait, you mean I can figure out a rug, and a bedspread, and a painting that I love?!" And all of a sudden those things were starting to become things I was aware of in terms of my own personal tastes. And I happen to think Emma has incredible taste. And we worked together, and I think Emma was doing Scream Queens at the time and I was still doing American Horror Story, and I was standing with one of the producers, who is a friend of Emma's as well, and she texted very casually, "Oh, I want to sell my house." I don't think she was that serious. I was sitting there and I said to him: "Tell her right now I want to go see that house!" And it happened very, very quickly, and I'm not 100 percent sure she really wanted to do that but it's too late now — I've already done so much stuff to it you can't even imagine!
AD: So you're doing a renovation and redecoration?
SP: I did do a renovation — the redecorating hasn't even started. I took out a lot of things that were in there. I changed the floors. There were beautiful 12-inch-wide oak plank floors that I pulled out and poured polish concrete through the whole house. I just love that look. I love the idea of having something very cold on the bottom of something and building the warmth up from it, because I love color. I have a lot of Moroccan farm French weird things happening in my house, and turquoise and fuchsia, so I thought, If I have a beautiful gray floor and white walls I have a nice clean palette to play with.
AD: What other items do you already have that you'll be putting in it or are looking forward to buying for it?
SP: I bought a triptych from Laura Owens, who is an artist I've always loved, and it's the first piece of art I've ever bought. It's a beautiful triptych that is fuchsia and black and turquoise, and I'm going to use that to inspire my rug choice. I'm going to work with a designer, because I did everything else inside myself: I redid my bathroom, pulled up the whole floor, did all the tile. I mean, I didn't get on my hands and knees, but I did design it myself, and I am pretty pleased. I have a nice floating walnut wood bench in my steam shower. It's pretty heavenly. I haven't been in it yet though. I've owned it for seven months and I still haven't been in it. So I don't know what that's like! (laughs).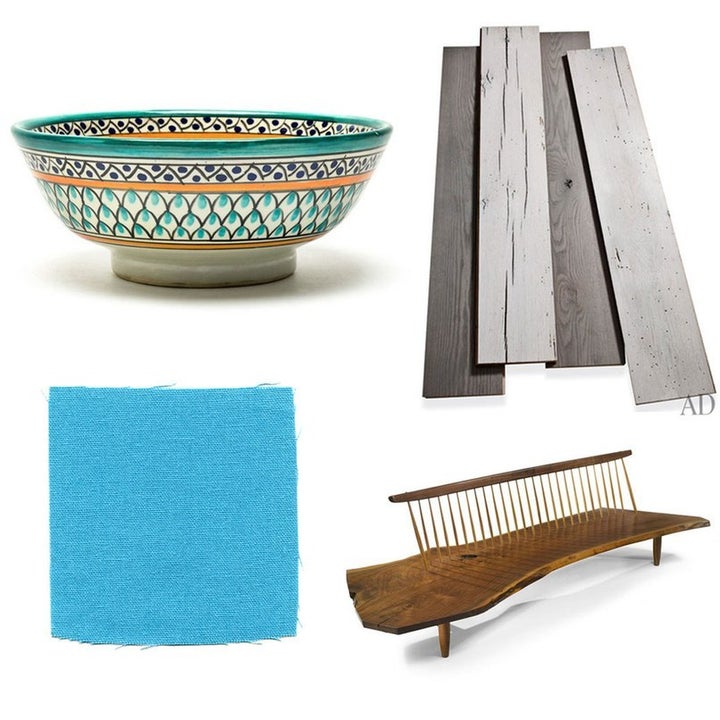 AD: Do you have any dream items or plans for the home you have your eye on now that you're a homeowner for the first time?
SP: Hmm, no, but I think basically a big mistake I made was making it all about the interior. The house is a really "indoor-outdoor house," in that the front of the house is really unassuming in that there's no windows really. You can't really tell what it is and in the back, where the master bedroom and the living room are, it's all floor-to-ceiling windows that open completely out, so it's basically about the outside being part of the inside. I haven't done anything to the outside yet. Emma had never done anything, and it turns out that she was like, "You can have a pool here if you want one, it's permitted for it." And I'm like, "Oh, great!" I had the guy come up, and it turns out there is a pool already underneath the ground! I just saw her the other day and I'm like, "Did you know you had a pool under there?" She was like, "WHAT! I WOULD HAVE CHARGED YOU SO MUCH MORE MONEY!"
AD: That's crazy! So are you digging it up, then?
SP: From the shape of it, it looks kidney bean–ish, and I'm not about that. I want a nice lap pool. The good news is, what it means structurally, I am ready and sound. Because I think whatever happens is you don't know if you have bedrock or landfill under there. So they have to do all these soil tests. So basically I don't have to do any of those because we know there is a structure under there, so it's going to save me a little time and some money, which is nice. But it was very wild to see a 3-D picture of my backyard, and I sent it to Emma and I said, "This is what's in the backyard." She was like, "I can not believe that. I didn't know!" Because I'm sure she would have just dug it up and had the pool there and then I wouldn't have to put it in.
AD: So I'm guessing this means cast pool parties will be at your place?
SP: Yes, the cast pool parties will be at my house, exactly, but it won't be ready till Thanksgiving, so that's the tragedy of that because I spent so much time doing the inside that I forgot I should be doing the outside, too. I was like, Oh, I'll worry about that later. Then I went up there and I opened all my doors and I was like, Ohhh, the backyard is a disaster! This has to be dealt with immediately. So. You live and you learn when you buy your first house and I'm trying to be comforted by the fact everyone says to me that this is par for the course: "Just give it a second, you're going to figure out things." And they keep saying to me: Don't decorate the whole thing right away, because you want to be in it and really see what you need, what you hate, what you have that you love, what you thought was going to be amazing that isn't. And you don't want to rush into anything … before you're even living in it and then you realize it's not the coffee table that works for your life. So, they just told me to be patient, and that's not my strong suit.
More from Architectural Digest: