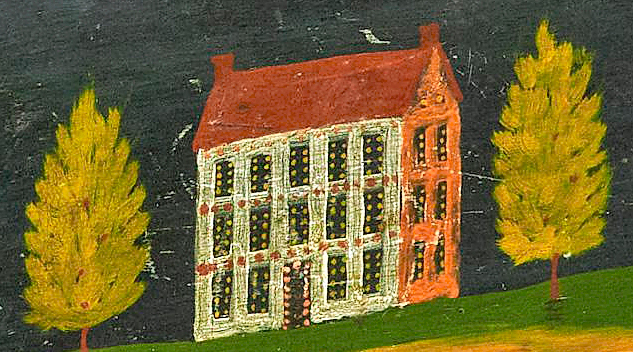 Trade, Private Estates Anchor Pook's Spring Americana & International AuctionAntiques And The Arts Weekly
[ad_1]

Review by Madelia Hickman Ring, Photos Courtesy Pook & Pook
DOWNINGTOWN, PENN. – For its April 21-22 Americana & International Auction, Pook & Pook offered a total of 805 lots, of which more than 96 percent found new homes and the house grossed a total of $2.16 million.
"It was very well received; we were thrilled," Jamie Shearer said after the sale. "We had a lot of interest on the things that should have been interest on. It's a recurring theme that great things bring great prices and there were a few surprises."
Nearly 270 lots crossed the block on the first day, with about half of them from the estate of Litchfield, Conn., dealer Peter Tillou, who passed away in November 2021. Tillou's estate is being dispersed among several auction houses; his collection got the sale off to a strong start. Leading his collection was a portrait of David Brickell Kerr (1749-1814) by Charles Peale Polk (American, 1767-1822), which sold for $29,760, nearly doubling its low estimate. Kerr was a Talbot County, Md., justice of the peace and delegate to the General Assembly and is a companion to the portrait painted of Mrs Kerr by Polk's uncle and mentor, Charles Willson Peale in 1790. The portrait of Kerr was published in Linda Crocker Simmons' Charles Peale Polk, A Limner and His Likenesses, which accompanied the Corcoran Gallery of Art exhibition of the same name in 1981.
Also, from the Tillou estate, a 47-inch-long Nineteenth Century full-bodied copper running horse weathervane ran away from its $4/8,000 estimate to finish at $22,320. It was denoted by an old verdigris and gilt surface in overall very good condition with some minor seam separations that did not deter interest.
The first lot of Tillou's to cross the block was a late Eighteenth Century Pennsylvania Chippendale walnut tall case clock with a brass face signed "Richd Stonehouse Whitby Fecit," that bidders wound up to $21,080. It was one of four clocks from Tillou's collection, with two Connecticut examples, one Federal, the other Chippendale, ringing up $5,208 and $3,720; a Federal maple clock from Massachusetts went out at $2,480.
Five patinated bronze sculptures by Dave McGary (American, 1958-2013) were in the Tillou estate and all sold, mostly within or above estimates. At the head of the small pack was "Bounty of Gray Hawk," from an edition of 50 that ran to $18,600. The group was split between four buyers, one of which bought two.
The selection and quality of furniture in the Tillou collection was robust and bidding followed apace. Two mahogany Chippendale slab tables, both with King of Prussia marble tops and provenance to dealer James Kilvington sold within increments of each other. Bringing $14,880 was a straight-legged example from Pennsylvania, while a New York example with cabriole legs and ball-and-claw feet finished at $13,640.
Tillou specialized in myriad niche categories, but long rifles were a particular favorite of his and the sale offered three examples, all of which went off with a bang. A circa 1800 Pennsylvania flintlock long rifle by Jacob Albright of Northumberland County found a new home for $10,540, an Ohio percussion long rifle brought $5,208 with a percussion rifle from Pennsylvania going out at $3,968.
Folk art, both two- and three-dimensional, from Tillou's collection also found favor with buyers. Charming bidders out of $10,540 was an early Twentieth Century carved and painted sculpture depicting a pig poking its head out of a red pen with shingled roof. The catalog described it as "one of Peter's favorite objects." Jamie Shearer said it was "a very popular lot in the sale" that sold to a trade buyer.
The highest price of the weekend was achieved on the second day of the sale, when a painted pine slide lid box by Weber of Lancaster, Penn., slid past its $30/40,000 estimate to finish at $80,600. Decorated with a house, trees and flowers on a dark blue green ground, the box was described as "an impressive example" of "a rare form by the artist…[which] remains in a wonderful state of preservation." It was from a Pennsylvania collection and sold to a longtime Pook & Pook collector who lives in Florida.
An important leaf from the Gutenberg Bible, the first substantial book printed using movable type, was the first such example Pook has ever sold. Printed around 1455, the "Noble Fragment" leaves originate from an incomplete bible, the Mannheim copy, which Sotheby's sold to Joseph Sabin in 1920. The Mannheim copy was missing 50 of its original 643 leaves and Sabin then sold it to New York City book dealer Gabriel Wells, who decided to split the individual leaves up. Pook sold parts of the Second Book of Esdras, which featured 42 lines of black ink, double columned, with red and blue Lombardic capitals, all hinged in a blue Morocco leather portfolio. It had been in the estate of John Donnelly, who acquired it from Christie's in 1993. The page inspired absentee bids from five clients and there were an additional three phone bidders, but, in the end, it sold for $68,200 to a private collector who had never previously purchased at Pook & Pook and who was bidding by absentee bid.
For impactful American two-dimensional graphic works, it's hard to beat fraktur and an even ten lots were offered on the second day, led at $37,200 by an ink and watercolor example for Maria Magdalena Walter by Johann Adam Eyer (Bucks County, Penn., active 1755-1837). Replete with a heart frame with miniature portraits, winged angels, birds and tulips, it easily surpassed its $8/12,000 estimate and sold to fraktur scholar and dealer Lisa Minardi Bradley who was bidding in the salesroom.
Provenance to early and/or noteworthy collections can add value to works, as well as allows bidders the confidence in knowing works were owned by collectors with a discerning eye. One example of this was a dome lid box decorated in vibrant pinwheel flower decoration made in the early Nineteenth Century in Lancaster, Penn., that had not only been in the collection of Richard and Rosemarie Machmer but had also been offered at Pook & Pook in October 2008. Priced with an estimate of $30/40,000, it met expectations and the lid was closed at $34,720. A Virginia collector prevailed against competitors.
Works by Jacob Maentel (American, 1763-1863) are perennial favorites among bidders at Pook and elsewhere. A large watercolor double portrait of Elizabeth and Philip Wolfersberger of Lancaster, Penn., had provenance to the Edith Gregor Halpert collection and fetched $24,800, just shy of its high estimate. One of just two up for grabs, it went head to head and barely surpassed a pair of watercolor portraits by Maentel of Jacob and Elizabeth Schoch of Berks County, Penn., that had provenance to an Indiana collection as well as an October 2015 Pook & Pook sale; the pair of portraits went out at $23,560. A Pennsylvania collector took the double portrait, while Lisa Minardi Bradley acquired the pair of portraits.
Nearly 60 lots from the Robesonia, Penn., estate of Pete Lengel, a longtime Pook & Pook client who Shearer said, "loved any antique related to the Berks County area." Presented on the second day, Lengel's estate selection was led at $29,760 by an 1957 Chevrolet Bel Air that had originally sported onyx black but which had been customized in the style of the late 1970s with Brandywine Kandy red paint with gold base paint. The car was one of two cars in the sale, the other was a 1972 Dodge Challenger from another seller that sold within estimate, for $24,800.
Other highlights from Lengel's estate included a saffron ground painted and turned wooden covered cup that had been made by Joseph Lehn (Pennsylvania, 1878-1892). Estimated at $1/1,500, it brought $11,160 from a collector in New Jersey.
Three works by Hattie Klapp Brunner were included in Lengel's collection and they all sold, ranging in prices from $2,728 for a winter landscape to $5,952 for an autumnal view.
When it came to stoneware, Lengel broadened his interests beyond Berks County to include Reading, Penn., pottery. Nearly two dozen stoneware lots from his collection were available for buyers to choose from. Leading the selections at $4,216 was a Nineteenth Century stoneware spittoon with profuse cobalt floral decoration and attributed to D.P. Shenfelder that the catalog described as "scarce."
Nearly three dozen lots were presented from the estate of Pennsylvania antiques dealer Christopher T. Rebollo, who passed away in February 2021. Top among the offerings was a late Federal Baltimore mahogany desk and bookcase attributed to the workshop of Edward Priestly, circa 1825, which schooled its $2/4,000 estimate and brought $11,160 from a Southern collector.
Furniture was a dominant category for Rebollo, and other noteworthy results included a circa 1800 giltwood girandole mirror that was cataloged as "large and very elaborate" with spreadwing eagle and curved candle arms that reflected interest to $8,060, double its estimate. For $3,968, a set of eight Philadelphia Federal chairs that are nearly identical to ones at the Metropolitan Museum of Art found a new home.
Nineteenth Century portraiture was another interest of Rebollo; nearly a dozen examples were presented at Pook, led at $4,216 by a portrait of a gentleman in oil on board attributed to Jacob Eichholtz (American, 1776-1842). It was followed by a bust-length portrait of Mary Anne Heide Morris (1803-1865) attributed to Thomas Sully (American, 1783-1872) at $3,224 and an unattributed portrait of a woman with a white turban that sold for $2,356.
From a different seller, another portrait, this time of the American tugboat Argus by Antonio Jacobsen (American, 1850-1912) from a Philadelphia estate sailed to $24,800, well past its $6/8,000 estimate.
Shearer said that Pook & Pook's upcoming schedule is "amazingly full." The auction house will sell the collection of Donald and Patricia Herr on June 9-10, and the collection of Mark & Marjorie Allen on June 30-July 1. The firm's next Americana & International Auction is scheduled for October 6-7.
Prices quoted include the buyer's premium as reported by the auction house. For information, www.pookandpook.com or 610-269-4040 .


[ad_2]

Source link