State House Dome: House Democrats have a big bankroll in race to retake state House | State House Dome
[ad_1]

MONEY ALONE does not win elections, but rarely does someone suffer for having more cash than the other guy.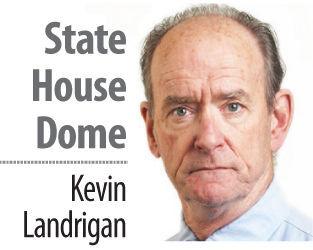 With that in mind, the Democratic political action committee working to flip the majority in the New Hampshire House of Representatives at the polls has reason to be optimistic about their chances to overcome the advantages Republicans have going into these midterm elections.
We've confirmed that the Democratic Victory Campaign Committee will report next week that it has a record $350,000 cash balance.
The war chest is more than three times what it has had in the past decade at the same point in the election season.
The former Committee to Election House Democrats had $107,000 in June 2020, $147,000 in the same month of 2018 and $100,000 in June 2016.
Parties filled ballots
Party recruiters found more warm bodies to run for legislative seats by Wednesday's deadline for the state parties to fill open spots on the ballot.
The Democrats brought in more last-minute hopefuls than the GOP, with Democrats filing for 390 of the 400 seats in the House.
Meanwhile, about 35 House seat races lack Republican candidates.
Overall, Republicans fielded more candidates and had many more competitive primaries than Democrats.
Privately, party leaders said some of the candidate filing reports coming out of Secretary of State David Scanlan's office were dated and did not include some candidates who beat the local filing deadline.
For example, Scanlan's team reported both Democrats and Republicans had been unable to fill three citywide House seats in Claremont.
However, local officials from both parties said they filled that slate before the deadline passed for candidates to sign up on their own.
Democratic leaders were able to nominate candidates and fill the slates in Bedford, Pelham, Hudson, Milford, Derry and Salem, all towns where traditionally Republicans win the overwhelming number of seats.
State GOP leaders were able to find candidates to run in Nashua (2), Bedford (1), Rochester (1) and Dover (1).
Rep. Matt Wilhelm, D-Manchester and chairman of the House Democratic PAC, said the party's slate was one short of an all-time record.
"Our team has worked hard to recruit the most highly qualified slate of Democratic candidates to ever run for the New Hampshire House of Representatives," Wilhelm said.
Elliot Gault, executive director of the Republican State Committee, said virtually all of the remaining GOP vacancies are for seats in Democrat-leaning areas such as Hanover, Lebanon, Concord, Dover and Portsmouth.
"Based on the field of candidates we have put together, I'm very optimistic we are going to grow our majority this November," Gault said.
Further up the ballot, the GOP did better, filling 23 of 24 State Senate races. The only opening was the Seacoast district that Portsmouth Democrat Rebecca Perkins Kwoka represents.
The party nominated Seamus Casey of Barrington to run against Sen. David Watters, D-Dover.
The Democrats have two Senate races left open, the GOP-leaning District 16, which Manchester Democrat Kevin Cavanaugh is leaving to run for the Executive Council, and the deep red District 19, held by Sen. Regina Birdsell, R-Hampstead.
Democrats filled two other Senate ballot spots, with Kate Miller of Meredith running in District 2, which Sen. Bob Giuda, R-Warren, is resigning from, and Wayne Haubner of Salem on the ballot in District 22, which Senate President Chuck Morse is leaving to run for the U.S. Senate.
The case for utility relief
The all-Democrat congressional delegation is urging Gov. Chris Sununu to use federal American Rescue Plan Act dollars to create a state program of relief for New Hampshire residents dealing with soaring electricity bills.
"The state should now use money remaining from that original $1 billion federal allocation to stand up a home energy cost assistance program to supplement the Low Income Heating Assistance Program, including helping households that are struggling with high home energy bills but are not eligible under LIHEAP's criteria," they wrote.
According to congressional staff, Sununu has full discretion under ARPA to set up a state program and to determine who should be eligible for the relief.
On Wednesday, Executive Councilor Ted Gatsas, R-Manchester, led the charge on this, authoring a letter to the Public Utilities Commission that all five councilors agreed to co-sign.
"To be informed at the last minute of this 47% increase that will affect New Hampshire citizens is unacceptable," the councilors wrote in a letter to PUC Chairman Dan Goldner.
Staffers head to campaign
At the end of last week, three top Sununu aides left the governor's office to join his reelection campaign.
They are Senior Adviser Paul Collins, Communications Director Benjamin Vihstadt and Deputy Communications Director Brandon Pratt.
During the campaign, other Sununu office staffers will be handling media inquiries.
Coos county targets Gov
Conservative critics of Gov. Sununu have been mounting a drive to censure the governor for his vetoes of bills the Republican-led Legislature passed.
State GOP leaders insist the campaign will fail to get the necessary 50% support from members of the Republican State Committee.
Last week, the state's smallest county, Coos, voted 17-3 in support of censuring Sununu.
Three of Sununu's four GOP primary rivals have come out in support of this effort.
Mum on endorsements
Sununu remains cagey about whether he will get involved in the U.S. Senate or the 1st Congressional District primary races.
"I don't have any plans now, but you never know. I could," Sununu said recently.
Regarding the Senate campaign, it's no secret that two-time Senate hopeful and retired Gen. Don Bolduc isn't exactly on Sununu's favorites page.
When Sununu decided in November that he wouldn't run for Senate, Bolduc declared victory and claimed he had "derailed" Sununu from jumping into the race.
Bolduc also called Sununu a "Chinese Communist sympathizer" whose family was in "business with Saudi Arabian companies that give money to terrorists."
Recently Bolduc apologized for those remarks.
Some of this animosity likely stems from Sununu's 2020 endorsement of Corky Messner of Wolfeboro, who narrowly beat Bolduc in the GOP primary.
Some GOP insiders believe that if it looks as if Bolduc would win this primary, Sununu could step in and pick someone else.
The leading contender for that would be Senate President Morse. The two families have a long history together, with both rising politically from Salem.
Sununu has endorsed Keene Mayor George Hansel in the 2nd District primary.
Hassan named Fiscal Hero
Fix The Debt has named Sen. Maggie Hassan, D-N.H., as one of five Senate Democrats chosen as a 2022 Fiscal Hero.
The group is a project of the Committee for a Responsible Federal Budget.
Earlier this year, the nonpartisan Lugar Center named Hassan as one of the most bipartisan senators.
Relief for vets at hand
Last week, the U.S. Senate approved comprehensive bipartisan legislation that should help generations of veterans exposed to toxic substances.
Hassan had been working with members of the House and Senate veterans affairs committees to incorporate the Toxic Exposure in the American Military act into this vets bill.
For more than a year, Hassan worked with Sen. Thom Tillis, R-N.C. on this reform effort.
The legislation now heads to the U.S. House. Congressional officials are optimistic the House will pass the bill this summer.
School security grants
The Joint Legislative Fiscal Committee on Friday approved using federal ARPA dollars to provide school districts with a second round of grants to make security improvements.
From 2018 to 2021, the state gave districts 619 individual grants totaling $27.7 million for security upgrades.
Sununu had used one-time state budget surplus money to create this initial grant effort.
Education Commissioner Frank Edelblut estimated this second round of money would provide another 250 grants averaging $40,000 to $50,000.
Anti-big tech ad hits web
The American Principles Project has been an airing a digital ad trying to pressure Hassan to support legislation (S. 2992) to reform big tech.
A spokesperson for the group said they are spending about $10,000 on digital ad platforms.
"The goal is to rein in big tech and hold these tech giants accountable. We have to reform their concentrated power or else they will continue to dominate," APP said in a statement.
The ad is to counter a much bigger effort on network and cable television from opponents of this same bill, who warn that it could lead to an end of guaranteed delivery offers that Amazon and other big tech companies offer consumers.
Café will close for summer
Sadly, summer State House denizens, the State House Café will close for a summer break from June 27 to Aug. 1.
That coincides with the period during which House Speaker Sherman Packard, R-Londonderry, has said lawmakers may not collect regular mileage for visiting the complex.
The only lawmakers who will be paid mileage during this period are those serving on "statutory" study committees created by state law to meet regularly throughout the year.
Backing for Sununu foe
Daniel Tamburello, a former state representative from Londonderry, is endorsing Thad Riley's GOP campaign for governor.
A former U.S. Homeland Security official during the Trump administration, Tamburello is joining Riley's campaign as a policy adviser.
"I have known Thad Riley for decades. Thad is a good man who can be trusted to hold fast to our core values of faith, family, and freedom," Tamburello said.
Three new judicial picks
Last week, Sununu announced three nominations for vacancies on the circuit court judicial bench.
The Executive Council will hold hearings on the three in the coming weeks.
Sandra Cabrera of Columbia is a partner in the Colebrook law firm of Waystack Frizzell and serves on the Judicial Council.
Justin Hersh of Goshen is the deputy Sullivan County attorney.
Joseph Dale Tessier of Milford is the prosecutor for the Hudson Police Department.
Sununu also nominated Republican National Committeewoman Juliana Bergeron of Keene to an open seat on the Council on the Arts.
He also has asked the council to give new four-year terms to existing Ballot Law Commission member and ex-State Sen. Robert Letourneau of Derry and alternate Eugene Van Loan of Bedford.
Griffin's passing marked
House and Senate leaders from both political parties and Sununu were saddened to learn 13-term state Rep. Mary Griffin, R-Windham, had passed away.
Griffin had served on the House Ways and Means Committee and was not running for reelection.
She was a cheerful person but a fierce advocate for her growing town and someone you didn't want to cross.
Trump is coming
Close friends of former President Donald Trump have been asked to help scope out potential New Hampshire venues for a Trump rally in the coming months.
It remains to be seen whether the former POTUS will make the visit before or just after the Sept. 13 primary.
The timing will likely be tied to Trump endorsements here. If he decides to get involved in the crowded U.S. Senate or congressional GOP races, he'll no doubt want to make a visit here before people go to the GOP primary polls.
[ad_2]

Source link